Fear and Loathing In Saigon: The Original Soundtrack
Hargreaves Sessions Presents...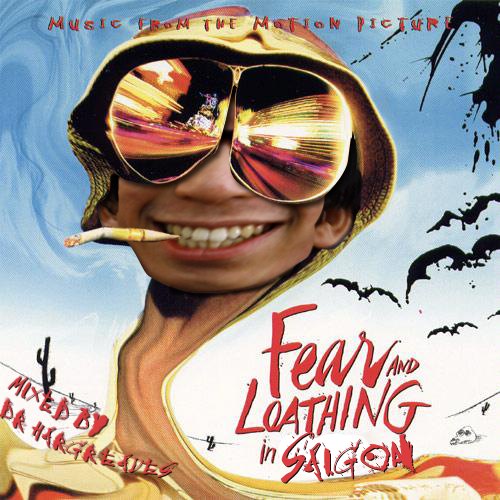 So Vietnam was one crazy trip, huh? I mean, with all those dinosaurs, manic boot camp drill instructors and out-of-tune performances of "Can't Take My Eyes Off You"?
…
What? I've made a mistake, you say?
…
Oh right yeah, how silly of me. We were TOTALLY in tune. I thought for one minute you were suggesting there were no dinosaurs; and I wasn't recruited to the U.S. army. I mean, come on, I remember firing guns! How else could I possibly remember that? And the dinosaurs? They were on the mountain! We saw them from the electric cars, remember?
…
You don't remember?
Maybe it's best I explain myself, then. This mix represents the Vietnam I remember. Perhaps you won't remember it the same way as me. If you did come on the trip, hopefully it will represent for you the same memories it represents for me. There will be things you'll get, and likely things you won't. If you don't understand what it's about, it must be because...
You don't know, man. You weren't there.
Download: MP3 (single file), MP3 (one per track)
Track list:
1. Shirley Bassey - Where Do I Begin? (awayTEAM Mix) (0:48)
2. Beyoncé vs. Far East Movement - Rocketeer Ladies (Hargreaves Mix) (2:50)
3. George Baker Selection - Little Green Bag (1:58)
4. Gun N' Roses - Welcome To The Jungle (2:25)
5. Crystal Castles - Vietnam (1:13)
6. Jennifer Lopez - On The Floor feat. Pitbull (2:26)
7. LMFAO / Daft Punk - Shots (feat. Lil Jon) / Oh Yeah (1:05)
8. Junior Senior - Move Your Feet (1:22)
9. John Paul Young - Love Is In The Air (1:41)
10. Wong Kei Hong - Once Upon A Time In Vietnam (Tom Tom's Theme) (1:10)
11. Yolanda Be Cool, Dcup vs. John Williams - We No Speak Dino (Hargreaves Mix) (2:46)
12. Enrique Iglesias - Tonight (I'm Fucking You) (2:19)
13. Daft Punk - Rollin' & Scratchin' with Gunnery Sgt. Hartman (Hargreaves Mix) (4:55)
14. Bruce Springsteen - Born In The U.S.A. (2:42)
15. The Black Eyed Peas vs. Far East Movement vs. Major Lazer - Like A Dirty Bit 'On De Floor (Hargreaves Like A G-Mix) (3:25)
16. Taio Cruz vs. Kesha vs. Chris Brown - Yeah, We Dynamite Who We R 3x (Hargreaves Mix) (3:48)
17. Vitalic vs. Samantha Fu - La Discotheque Rock (Hargreaves Edit) (3:07)
18. Far East Movement - Like A G6 (Eyes Remix) (3:13)
19. Andy Williams - Can't Take My Eyes Off You (Hargreaves Edit) (4:25)
20. Eddy Arnold - Make The World Go Away (2:51)
Total time: 50:59.